Singapore, August 16, 2023 : Drootoo, a distributed cloud computing company, is announcing the launch of its Global Channel Partner Program.
The company is transforming businesses and making them high performing entities with its unified cloud platform, smart city platform, enterprise transformation platform and new normal program. The Channel Partner Program is designed to build meaningful, profitable and long term commercial relationships with system integrators, solution providers, value added resellers and distributors.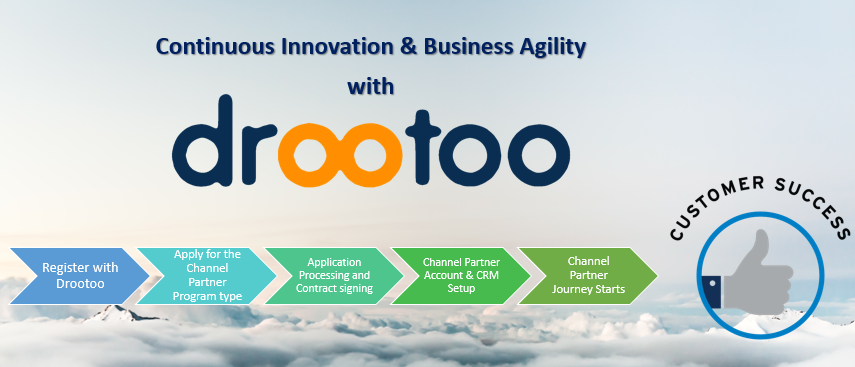 Drootoo's Unified Cloud Platform makes it easy for users to migrate and start using the hyperscale cloud services without any coding knowledge or experienced cloud engineering skills. This helps businesses to easily setup internal cloud center of excellence without the need of expensive external consulting services or spending time in lots of coding. Where as Drootoo's Smart City Platform helps city agencies to accelerate rolling out of smart city services in an on-demand fashion with continuous integration and deployment. Drootoo's New Normal Program helps in business transformation in the post pandemic inflicted business world.
"Acceleration of Sales Revenue, increasing share of wallet and acquiring new customers are the benefits of Drootoo's program for partners in the new normal. The new normal is driving acceleration of innovation across various industries with business transformation and agility being core component of every company's market growth strategy. This requires cooperation between various solution and service providers to address the growing market need. Drootoo's program had been carefully designed to achieve these practical business objectives. " said Steven Schuettinger, Distinguished Member & VP , Drootoo Global Solutions.
This framework rewards and supports channel partners based on their go-to-market model and investment with Drootoo. All new partners can enter the program at partner types based on area of specialization. There are basic and advance level for each partner classification type which gives flexibility to new partners to select from. The simple five step process to enroll in Drootoo's channel partner program are:
Register with Drootoo.
Apply for Channel Partner Program Type.
Application processing and contract signing.
Channel Partner Account setup.
Channel Partner Journey Begins.
For more information about DROOTOO and to sign up to become a channel partner, please visit:
https://drootoo.com/channel-partner-program
Partners can schedule a call with your interest to learn more about the above press release by contacting DROOTOO at i[email protected] or reaching out to your partner representatives.
About Drootoo
Since 2013, Drootoo is transforming businesses and making them high performing entities with its unified cloud platform, smart city platform and new normal program.