Channel Partner Program
Drootoo, an award-winning leader in distributed cloud computing, is transforming businesses and making them high performing entities with its unified cloud platform, smart city platform, enterprise transformation platform and new normal program.  Are you and your company ready to take advantage of the post-covid Expansion by partnering along with Drootoo's global ecosystem? The "wave" will usher in many new business practices, sales and revenue opportunities by partnering together.

Fig 1: New Normal Graph
The objective is to make your Acceleration of Sales Revenue as part of Drootoo's Channel Partner Program. Enjoy the business benefits by enrolling yourself either as a :
Distributor
Reseller Partner
Services Partner
Solution Partner
Business benefits  for being part of the program:
Accelerate Sales Revenue
Increase Share Of Wallet
Acquire New Customers
Performance Accelerators
Volume Discounts
Distributors can recruit tier 2 resellers to sell Drootoo's products to more customers. Distributor business model is open for legal enterprise entity only who have dedicated sales and technical team to sell Drootoo, and also experience to recruit and manage tier 2 resellers. Distributors should have few years experience with the geo market that they operate.
Reseller Partners can sell their customers Drootoo products and solutions, or bundle with their own solutions and sell to add business value to the end customers. Reseller business model is open for legal enterprise entity only who have dedicated sales and technical team to sell Drootoo.
Services Partners help enterprise customers realize the business value of distributed cloud computing as a Drootoo Services/ System Integrator (SI) partner. Provide consulting, integration, and outsourcing services as you collaborate with your customers to deliver innovative solutions leveraging the Drootoo portfolio of products for large-scale implementations.
Solutions Partners enhance application usage and delivery by incorporating Drootoo solutions with your own applications for resell. Drootoo Solutions Partners (ISV) can propose, sell and support Drootoo products locally and globally as required.
The Five steps to start the Channel Partner journey are :
Register with Drootoo
Apply for the suitable Partner Program type
Application processing and contract signup
Channel Partner account setup
Channel Partner Journey Starts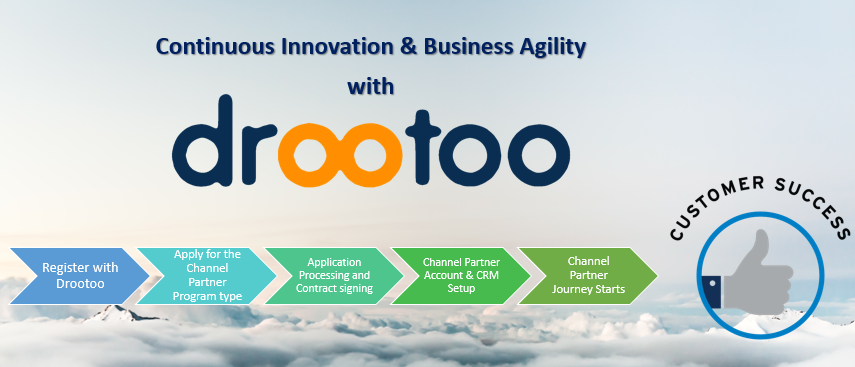 Fig 3: Five Step Process
Please download the solution's brief document from here:
DROOTOO_Channel_Partner_Intro_1.0
Please schedule a call with your interest to learn more by contacting DROOTOO at [email protected] or reaching out to your partner representatives.
Let us WIN together !