Cloud computing is transforming industries in everything from the way they do business to how they build and deliver their products or services. Our industry wise case studies show the challenges they face and how distributed cloud computing enables the solutions. Click on an Industry to access its case studies.
DATACENTER| INTERNET OF THINGS | SMART DEVICES
INSURANCE | BANKING & FINANCIAL SERVICES
ORIGINAL EQUIPMENT MANUFACTURER
Advantage Drootoo: The ONLY Unified Cloud Platform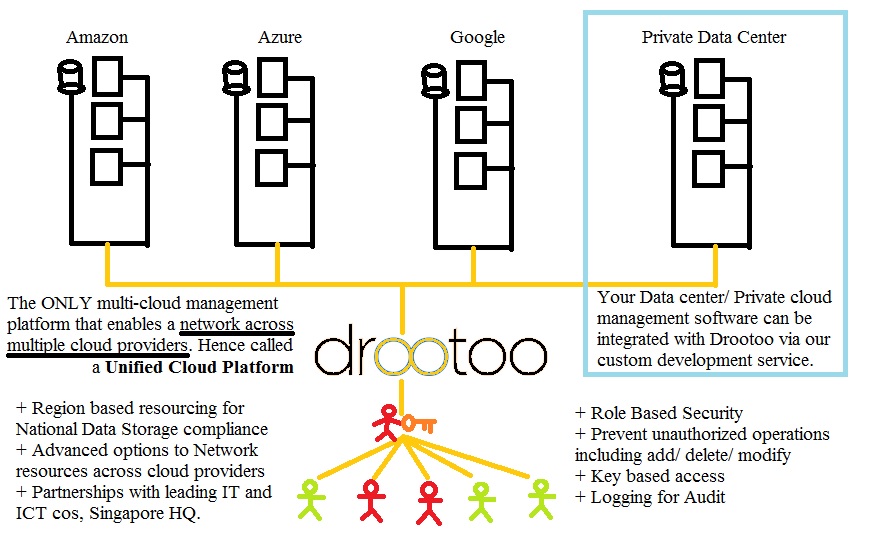 Customers are adopting DROOTOO unified cloud platform for multi-cloud management and networking multi-cloud resources from One place with a simple, smart, easy to use interface that enables complete governance with security.
Single interface: By integration with Drootoo, a single management interface is available for organizations to access private data center resources as well as those hosted on public clouds. This helps with many aspects like Cloud Governance and Security, Cost Arbitrage, Maximization of Utilization.
Users can compare services from multiple cloud vendors to select a suitable one. Depending on the country, required services could be available from different vendors and it is cumbersome to use multiple sites to manage those. It also helps if all relevant information is available in one place.
Unified Governance and Security: Role based security is slowly being implemented by cloud vendors, but having multiple management interfaces for public cloud and private cloud resources could make governance and security a pain area with heavy administrative overheads. With a single interface for public cloud and private cloud resourcing and management, Drootoo ensures role based security for Unified Governance and Security of infrastructure platforms.
Avoid Vendor Lock-In – Using a single cloud provider could lead to potential uptime and billing issues – Their prices could go up, or their services could have some outage and it would impact costs.
Leverage Cost Arbitrage – Create Compute and Storage resources according to the prices offered by the public cloud providers that you subscribe to. When Azure has better pricing, use that. Similarly, for Amazon and Google. Realize cost savings even after moving to the cloud.
Maximize Utilization using Resource Visualization and Reporting – Get data, analytics and resource visualization for resources across multiple clouds and custom integrated data centers/storage solutions. This can enhance management decision making to ensure maximum utilization of available resources before provisioning new ones. Of course, reporting is there for many aspects to support  audits and compliance.
Minimize employee training, governance and security costs by avoiding the administrative overhead due to the use of multiple platforms for cloud and data center access. Drootoo's single interface is good for multi-cloud and data center IT infrastructure management with built-in governance and security.
Keeping cloud resources in non-networked silos prevents many innovations and bread-and-butter operations like backup/disaster recovery across cloud providers and geographies. With Drootoo's unified cloud platform enabling networking of multi-cloud resources, there will be many options to meet uptime goals while delivering significantly lower TCO.
Audit and Compliance:From a legal perspective, it is important to adhere to various nations' laws regarding data storage and this is enabled by region based service selections. It is possible to maintain infrastructure in specific regions through the Drootoo interface. Auditing user activity is made possible by key-based security and complete logging of user tasks and activities.
Seamless Integration of Cloud, Data center and On-Premise Resources: Resources provisioned on the public clouds and private data centers live in silos today. Drootoo changes that by helping to get them all on a single network, which enables a host of possibilities in developing intelligent applications, cloud and region agnostic backup/restore solutions and high-performance/high-availability solutions among others.
Ease of Use: With Amazon Web Services (AWS), Microsoft Azure and Google updating their platforms every couple months, on average, with new features employees can find it overwhelming to learn or keep up to date with developments. With Drootoo, complexities of cloud adoption are swept under the hoods of a simple, no-nonsense user interface that needs very little training, though we'd be glad if you had us over to learn more ? Smart Automation: Unlike, AWS, Azure or Google, Drootoo automates many tasks like "bursting" as part of the user interface options rather than needing programs or scripts to be written for it.
Meet – Demo – Sign Up or Collaborate

At Drootoo, we welcome customers, collaborators and resellers to meet up and see the value our solution brings to cloud and infrastructure management. We can then setup a demo and discuss further opportunities. If you require a customized solution to integrate with our platform, we do that too.
Please direct your queries to our  sales team at  [email protected]