Do you know your right #Cloud? #Gartner has recently published a Magic Quadrant for Cloud Infrastructure as a Service #IaaS, highlighting the various strengths of the public cloud providers.
#AWS: World market leader, common choice for strategic adoption appealing to customers that desire the broadest range of capabilities and long-term market leadership.
#MicrosoftAzure: Appeals to customers employing a multi-cloud strategy and are committed to #Microsoft technologies.
#GoogleCloud: Positioned as an "open" provider, emphasizing #portability as its key value proposition.
#AlibabaCloud: Market share leader in china, with an impressive ecosystem of managed service providers and #ISVs.
Source: Magic Quadrant for Cloud Infrastructure as a Service, Worldwide.
With #Drootoo unified cloud platform, we enable a network across different hyperscale cloud providers. The single interface, seamless integration of these cloud providers by Drootoo will allow you to break out of a non-networked silo and enjoy a host of possibilities for your business with a scaleout infrastructure architecture.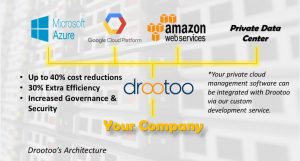 Reach out to us if you will like to find out more! https://drootoo.com/contact.html or mail us at [email protected]